Palisade Fence
Introductions:
Palisade fencing is one of fencing series. It is used in England at first. Now palisade fence is widely used at home and abroad. Palisade fencing instead of the brick wall or heavy fence makes your life environment clear. It is widely used because of people's environment pursuit, publicity of personal cleanliness and the pursuit of foreign style. Palisade fencing with beautiful structure and various styles are popular and widely used.
Product features:
Palisade fence has the features of high strength, good rigidity, structural stability, anti- corrosion, and beautiful appearance, wide vision, low price, various colors, styles and easily install
Materials:
High quality steel sheet, hot dipped aluminum-galvanized steel sheet, cold rolled steel and hot rolled steel
Process:
Stamping, hot-dipped, spraying plastic, PVC anti- corrosion treatment
Uses:
They are used as protective fence or decorations in buildings, residential sites, industry, agriculture, city government, schools, lawn, garden roads, and transports.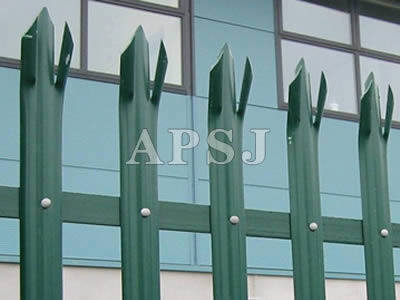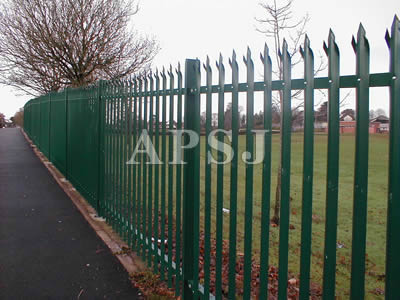 Types:
Palisade fencing is divided into two types according to the shape of the cross section: "D" type fence and "W" type fence.
D Type Palisade Fencing
D section pale:
3mm: General purpose
3.5mm: Security purpose
4mm: Special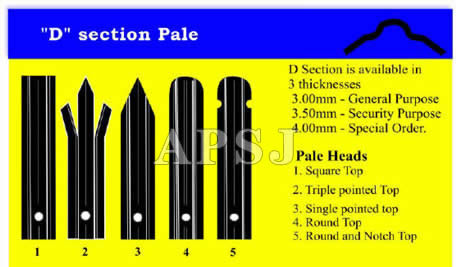 Pale Heads Types
Square top, Triple pointed top, Single pointed top, Round top, Round and Notch top.
Height: 2.75m
Width: 1.8m-2.35m
W type palisade fencing
Thickness:
2mm: general purpose
2.5mm: security purpose
3mm: special purpose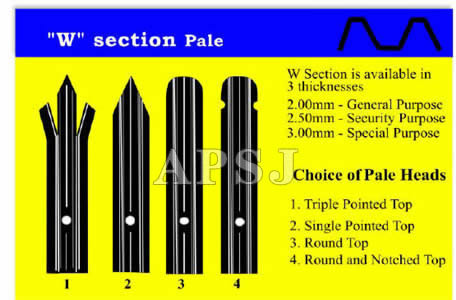 Pale head types:
Triple pointed top, single pointed top, round top, round and notched top.
Height: 2.750m
Width: 1.8m-2.35m
The common specification of palisade fence:
The palisade fence panel is made up of 17 low carbon steel panels with the "D" type or "W" type top.
When using the palisade fencing, the type with the standard width of 2.75m is widely used. And this type of palisade fencing is easy to install.
Fixed nut &bolt: 8mm.
| | |
| --- | --- |
| Standard height | Standard thickness |
| 1.2m | 3.0mm "D" |
| 1.5m | 3.0mm "D" |
| 1.8m | 3.0mm "D" |
| 1.8m | 3.0mm "D" |
| 1.8m | 2.0mm "W" |
| 2.0m | 2.0mm "D" |
| 2.0m | 3.0mm "D" |
| 2.0m | 2.0mm "W" |
| 2.1m | 3.0mm "D" |
| 2.1m | 2.0mm "W" |
| 2.4m | 2.0mm "D" |
| 2.4m | 3.0mm "D" |
| 2.4m | 2.0mm "W" |
| 2.4m | 2.5mm "W" |
| 3.0m | 3.0mm "D" |