358 Security Fence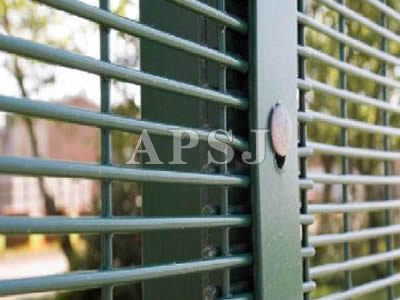 Why is it called 358 Mesh Fencing: '358' comes from its measurements 3" x 0.5" x 8 gauges which equates to approx. 76.2mm x 12.7mm x 4mm (Length x height x Diameter) in metric.
358 security fences are extremely difficult to penetrate, with the small mesh aperture being effectively finger proof, and extremely difficult to attack using conventional hand tools. 358 fences are recognized as one of the most difficult to break through the barrier, because it is difficult to climb. It is called security fencing and high- strength fencing. 358 security fencing panel can be bent in part to enhance the aesthetic effect.
While 3510 Security Fencing has many of the attributes of 358 Security Fencing and its main strength is it's lighter. Using 3mm wire instead of 4mm allows even better visibility allowing a wider variety of applications. It's lighter and cheaper so it's ideal for commercial applications.
Features:
ANTI-CLIMB: More small openings,no toe or finger holds.
ANTI-CUT: robust wire and welded joints make cutting very difficult.
BETTER VISIBILITY: flat, two-dimensional profile, easier to see through than chain link.
Finish treatment: There are two treatment types: hot dipped galvanized and plastic coated.
The colors of plastic coated are mainly green and black. Each color is available according to your require.
Connection type of host and fence panels, as follows:
Specifications: 1/2" x 3" x 8gauge, 1" x 3" x 8gauge. Panel size from 2m to 4m. finishs by hot dipped galvanized or powder coated after gal.any color available.
358 fence applications:
Bridge anti-climb guarding & guard safety screening
Sub-station Security Fencing
Psychiatric hospital security fencing
Prison Security Fencing
Factory Machine guards
Walkway security fencing
Airport security fencing
358 wire mesh fence gates
Shipping Port Security fencing
Electrical sub-station fencing
Water Treatment works
Gas pipelines Security Fence
High security window grilles
Balustrades Security Fence
358 fence Benefits:
Secure and discreet
A superior system for providing security where a discreet visual impact on the immediate environment is essential.
Vandal resistant
The finger proof aperture combined with 4mm wire diameter provides a barrier that is difficult to climb or penetrate. Almost impossible to cut wires by use of conventional bolt or wire cutters.
Efficient deterrence
An effective deterrent to intruders available in various heights up to 6m. Compatible with electronic detection and alarm systems.
Good viewing visibility
In spite of the small mesh aperture the see-through characteristics remain unimpaired when viewed head-on and even at an angle to the fence. This is particularly important for clear camera surveillance.
Durability
The high quality advanced coating technology guarantees an extended product life span and low maintenance.
Installation
The panels are produced at 3.050 m, reducing the amount of posts needed by 20%. Installation time is thus reduced.
Weld Strength
The superior welding technique and process control create a stronger fusion between the wires.
Complete system
Supplied as a complete system with panels, posts and gates - stepped panels available to suit sloping sites.